Le Van Sinh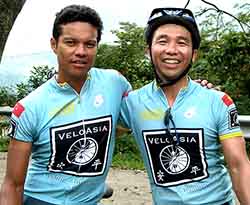 A former engineer, in 1991 Saigon-native Sinh virtually founded the modern-era tourist industry in Vietnam, opening the seminal and now famously-duplicated Sinh Cafe. An avid cyclist, Sinh has criss-crossed and explored the roads and remote corners of Vietnam for over 30 years even hosting pros incuding US champion Tony Cruz ( right). Sinh's knowledge of the highways and byways of Vietnam is unequaled and he has served as cartographer for Lonely Planet and several other guidebooks for decades. In his spare time, Sinh renovates bicycles imported to Vietnam from around the world. Favorite trip? Our Hanoi to Luang Prabang trip over the "Tonkinese Alps" and the Ho Chi Minh Highway, threading through the sublime mountain valleys in northwest Vietnam.
Patrick Morris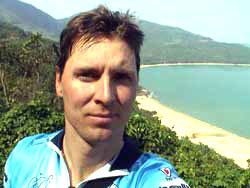 In 1993, Patrick moved to Saigon, organized and lead the first cycling tours of a newly-opened Vietnam. Over two decades later and of thousands of miles of exploring and leading trips in the country and throughout the world, it remains his favorite place. Call Patrick in our San Francisco office at to learn more about and his passion for Vietnam. Patrick's insider tip: Toss the guidebook — the cuisine is incredible, but it is the limitless optimism, warmness, and humor of the Vietnamese people are addictive and the real highlight of the country. Bourdain said it best: "once you love Vietnam, you love it forever." Favorite new destination? Baja, California. A special window for ride cycling that did not exist before and will not last long and as Baja gentrifies. See our new cycling trips there at www.velopura.com.
Willard Ford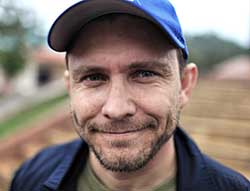 Co-founder Willard was a competitive cyclist from his early teens, racing for many years, eventually founding and managing competitive teams, while coaching amateur and professional riders who have competed in Europe, won state-level races, and the U.S. National Championships. He has organized and lead cycling trips around the world and over the last three decades also founded and coached at several gyms and studios with a focus on strength and martial arts. In his spare time, Willard tricks out new and vintage bikes, mostly Landsharks, under his brand www.thesuperfred.com. Favorite trip? Vietnam—always and forever. The people, the food, the landscapes, there's no other place like it (though Mexico comes close).
Chit Philavanh
A native of bucolic Luang Prabang, Chit has lead overland cycling trips for over two decades, including our popular cross border Hanoi to Luang Prabang trips. Nobody has more experience managing trips on the road, a more engaging personality, nor a more fascinating life, from a hardship life of dry rice farming as a child to hosting guests from around the world.
Chit will invite you to meet his large extended family during your time in his home town, during a traditional baci welcoming ceremony. Chit also has a keen knowledge of lao cuisine, and your time in Laos will be spent enjoying this lesser-known facet of the country. In his spare time, Chit travels to mountain bike the lesser known places in the region.