Why VeloAsia?
We were the first to organize bicycle tours in Vietnam, starting in 1992, and still organize more tours than any other company. Since the early 90s, we have continually built on our experience in the country and a few other destinations in Asia. We love traveling on bike, and have the finest, widely-traveled and experienced guides. We import quality bikes for rentals. Emergency evacuation insurance through in-country AEA/SOS can arranged for every traveler for peace of mind. Our group size is smaller, but we provide plenty of support. We love, love, love food and highlight that aspect of our tours (you may not lose weight). Every tour is different than any other and we are always intent on improving our trips on all levels. We offer only a few trips per season to keep ourselves fresh and focused. Also compare the depth of our itineraries, accommodations and activities — we offer much much more than anyone else do, at any price. In 2008, our luxury-accommodation lunar new year trip was priced at only $3,980, roughly half of Butterfield and Robinson and Trek Travel. Read more about us. Please request references — our past travelers recommmendations are our number one source of new travelers.
Type of bikes you carry?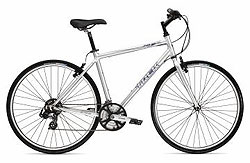 Trek FX Hybrid

We ride imported, high-end Trek, Raleigh and Specialized hybrid bicycles all of which are in excellent mechanical condition and available in all sizes, perfect for mixed condition roads and veering off down the dirt-packed trails into villages. Our bicycle fleet is replaced each season. We also have a fleet of mountain bikes for our off-road trips, also imported Treks and Rocky Mountain. We provide handlebar bags, pumps, bottles, and helmets. You may bring your own seat and pedals which we will mount for you. If you bring your own bike, for our longer cycling trips such as our Iron Chef trip or your own custom tour, we will assemble your bike before the trip and repack it for your flight home.
What cycling ability is required? How many miles do we ride per day?
We cannot emphasize enough that riding is at your pace. There is always be a support vehicle nearby and you are welcome to climb in whenever. We do not ride as a group to suit all interests, including those who like to stop a lot and sightsee, take photos, eat a large lunch and/or pack it in, but also those who prefer a fast, uninterrupted pace. To enjoy our tours you should be able to ride some of the day's route. However, to really enjoy our tours you should stop, frequently. Stop and visit the people along the way who are asking you to stop. These important experiences mean we are never in a hurry.
During our riding days the maximum mileage varies from 30 to 80 miles (although each tour's route varies). We often have a long and short group for those who want to ride less or longer on a given day. Riding days are spent at a leisurely pace (although that is up to you), and are usually followed by a busy rest day in our destination city. Bicycling is also an ideal way to explore towns on rest days and we often do. You'll also be surprised how far you can ride when that is really the only thing you have to do all day! We also allow for the serious cyclist, who may ride all days of the tour - over some six hundred sixty miles in two weeks in Vietnam (try that on a Backroads tour). The level of difficulty is greater for Turkey with higher mileage, more climbing and fewer rest days.
On our Vietnam trips, we typically people who would describe themselves as travelers first. With our support buses and many staff, you can ride as little or as much as you wish (or not at all), without rushing, at your own pace. There is also a guide/mechanic accompanying the tour for repairs and support. We are flexible and can add distance options to the already 40-60 miles per day average. Stopover days include a city tour by bicycle. Our guides are competitive, long-distance cyclists and will able to escort you for any length of riding you want.
Who typically joins your tours?
Travelers from all over the world who like anywhere form a little cycling to a few ours a day. Our tours are rich in cultural activities and diversions to attract those who have traveled the world and feel, as we do, that places like Vietnam, Bhutan and Myanmar are best visited so on bike.
Can you accommodate an independent traveler (I'm not a group travel-type)?
We promise, no camp fire sing-alongs. Although this is a "group tour", almost all activities are optional. Our primary role is to provide the means for you to bicycle through a country that otherwise would be a difficult and demanding travel experience. Over the many years of traveling in Vietnam we are taking you through the best it has to offer. We take care of your luggage, hotels, food and transportation. However, we understand no two people enjoy travel in quite the same way and some prefer solitude versus a group experience which you are welcome to do.
Food quality?
If you're planning on shedding a few pounds during the tour, you will be disappointed. We eat very well and frequently on seafood, grilled meat, freshly cooked vegetables, soups, fruit and sweets, cold beer, French and Italian cuisine. Historically, complaints have been about too much good food! Air France's daily flight to Hanoi means good wine selection.
Hotel quality?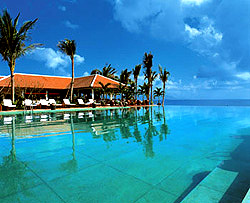 Ana Mandara, Nha Trang
There are few finer pleasures than a fabulous hotel after a long day in the saddle. We select only the finest hotels chosen for a combination of character, location, comfort and past traveler preferences. You will be very comfortable in them. Here are a few properties we frequent: the restored colonial-era Dalat Sofitel Palace, the Caravelle and the newer Park Hyatt in Saigon, the renowned Metropole in Hanoi, Ana Mandara Resort and Evanson Villas in Nha Trang, and the Raffles Grand d'Angkor in Siem Reap.
What is a typical day like?
We typically balance our tours between point-to-point travel days during which we ride most of the day, with optional stopping at points of interest and lunch along the way. After arrival, there is typically a couple hours before we regroup for dinner. In cities worth staying in over an extra day, such as Hoi An, we'll sightsee on and off the bike and have usually planned some optional activities such as a cooking demonstration or boat cruise.
What is the weather like?
Vietnam is a tropical monsoon climate ranging from hot & humid, to cool in the north. The normal temperature for Vietnam during the months of December through March are 80's and 90's, with Saigon in the higher 90's and up to 100F. There are cooler areas we will be in and the cool, damp weather shouldn't be ignored! You will be surprised. We have also had some years much cooler than average; in the 60's and 70's. We often break midday if the heat is high and our buses are air-conditioned. Turkey is a wonderful 70s to 80s, dry California climate. Please also see our comprehensive weather page.
Type of bicycle to bring?
We do have hybrid bikes available in Vietnam, but we recommend that you bring your own if that's what you are comfortable with. A mountain bike with fatter road & dirt (hybrid) tires and a handlebar bag is best, although accustomed to touring or road bikes will have a few more flats but enjoy the extra speed. Most local bike shops will pack your bicycle for a small fee and bicycles fly free internationally. We will also handle transport and assembly once your bike arrives and packing it back up once again once you are ready to depart. Please make sure your bike has been tuned up and is in good working order before the trip - spare parts are difficult and even impossible to find in Vietnam.
How do the sag wagon (support buses) work?
They leapfrog riders and provide support, water, and refreshments every few miles. There are in contact via mobile phones and there are two guides on bikes for additional support.
Road Conditions?
Mostly in good condition, medium-traveled highways. During Tet, the roads have the least amount of traffic all year. Approximately 95% of the road is paved, but due to some gravel and potholes, road bikes with very skinny tires are not advisable unless that's the bike you are most comfortable on.
Safety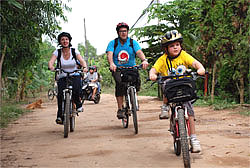 Family Cycling in the Mekong Delta
Vietnam and Myanmar may conjure visions of dangerous places from historical eras. In fact, data reveals Vietnam is one of the safest destinations for travelers in the world. The popularity of our family trips bears witness to this. We choose to travel to these destinations because they are fascinating and because they are so different than our culture. Different does not mean dangerous, despite much of the media's presentation.
In regards to cycling safety, while in Myanmar, Basque Country and off-road in the Golden Triangle, traffic is sparse. On other tours, we try as much as possible to travel on sections with the least amount of traffic and newly-opened side roads. We always encourage cyclists to board the bus to skip sections they may not be comfortable with. We would be glad to put you in touch with past travelers of all abilities for a personal perspective.
Are the side trips (tour extensions) really worth doing?
If you have the time, absolutely! These are places not to miss as they will be different than anything you will se on tour. The Khmer temples of Angkor and Halong Bay are UNESCO World Heritage Sites, one a spectacular natural setting, the other the "Nile Valley of Asia." They are unique in the world and well worth the side trip. Most people do go on the pre-tour kayaking in Halong Bay
Malaria (and other immunizations and vaccinations)?
For most tours irregardless od season, you will not need the full schedule of recommended shots. Japanese Encephalitis (recommended only during the monsoon season) nor Cholera (exposure would be very rare). Malaria is more controversial — yet data over recent years shows malaria to be rare in short time travelers as wella s the region along the coast of Vietnam where most of our trips travel. Malaria occurs much more frequently in the low-altitude jungle areas that are sparsely inhabited.

With diligence, some luck and adequate avoidance habits (especially at dusk -- wearing trousers and long sleeve shirts with a DEET-based repellent on exposed skin), it is not impossible to make it through the entire tour without being bitten. Consider taking the newer prophylaxis, Malerone, which is much milder than it's predecessor, Larium, which was harsh to some people (with questionable side-effects). On our resources page are several links to articles addressing travel and malaria in southeast Asia:
https://www.veloasia.com/resources/index.html
Travel Insurance recommendations?
Travel insurance is required for all of our two-week tours. Please ask us for a quote. Also for a side-by-side comparative analysis of several leading insurance providers, go to www.insuremytrip.com. Specific companies you may wish to look at are.
Airlines?
We can assist — please see our air travel information page.
Difference between VeloAsia and other tour companies?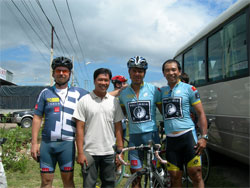 En route to Dalat

We're cyclists first, have traveled the world on bikes and are passionate about travel on two wheels (see senior guide Le Van Sinh's Big Sur California century ride). These tours have been crafted from that passion and a passion for Vietnam. In terms of practical comparisons, we are not a global tour company and specialize only in Vietnam. Call and ask us the tough questions, then do the same with the others. We typically cover far more ground (compare itineraries) while providing a more authentic cultural experience. We operate our tours at the highest level of quality, yet provide them at a very competitive cost and include such extras as pre and post-tour travel consultation and arrangements and medical and air evacuation coverage at no extra charge. We provide a compelling value for our more comprehensive trips, compare us with our competitors Butterfield and Robinson, Backroads, and Trek Travel.
Are your tours are as good as you imply they are?
Our Vietnam and Myanmar tours are wonderful, profound experiences. Many past travelers have said these were the best trip of their lives.
I still have more questions
Please contact us directly, via e-mail us at veloasia@gmail.com or by phone at: . If you are already in Vietnam, please drop by one of our offices in Saigon or Hanoi which are conveniently located.
Pipe Insulation
Pipe insulation is great for protecting the tubes of your bike during shipping, although in recent years more of travelers are now renting bikes instead.